What do I get with a ClusterHAT?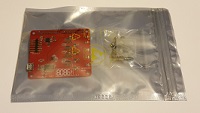 The standard ClusterHAT package contains:

1x ClusterHAT PCB*
4x 12mm M2.5 standoff
8x 6mm M2.5 screw
4x stick on foot
USB Cable*
(* PCB/LED/USB Cable colour may vary)
What else do I need to use the ClusterHAT?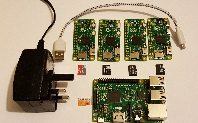 1x Controller Raspberry Pi (A+/B+/B2/B3)
1-4x Raspberry Pi Zero (1.2/1.3/W)
2-5x Micro SD memory card
Pi Power Supply (2-2.5A capable)
Network Cable / WiFi dongle / etc.
(* PCB/LED/USB Cable colour may vary)
The ClusterHAT will work with most models of Raspberry Pi (as above) but please be aware the Raspberry Pi 3 may reduce the CPU speed when hot which may happen with high CPU usage with or without a HAT. A 20cm (or longer) USB cable (Type A plug to Micro-B plug) is required to connect the ClusterHAT to the Controller Pi USB port. The Controller and each Zero requires a Micro SD card (8GB or bigger recommended). A power supply capable of supplying 2 Amps is recommended (2.5A when using a Pi 3).
Hardware Assembly
Disconnect the Pi from all sources of power (USB Power/HDMI/USB Peripherals/etc.) before connecting the ClusterHAT.
Attach the 4x standoffs to the Controller Raspberry Pi with the supplied screws
Place the ClusterHAT on top of the Controller Pi
Secure the ClusterHAT to the Controller Pi using 4 screws
Connect the USB cable between Controller Pi and ClusterHAT
Plug 1-4 Raspberry Pi Zero into the ClusterHAT
Removing a Raspberry Pi Zero from the ClusterHAT
Care must be taken when connecting/disconnecting Pi Zero from the ClusterHAT as excessive force may damage the ClusterHAT connectors and/or Pi Zero.
To remove the Pi Zero we advise securely holding the Controller/ClusterHAT with one hand and then using the thumb and index finger of the other hand to gently pull the Pi Zero from the socket.